TPI Tech Projected Capacitive (PCAP) touch technology which is a fast and sensitive, top grade in the line ,which is much reliability and long life time .
G+G Structure
Glass+Glass solution (G+G) offers optical clarity, high touch durability and stability over temperature. Multi-touch 10points ,Zero-bezel , Silk screen can be customized with clients name, logo .
USB Touch interface with WEIDA ,ILITEK ,EETI controller for options .
Customization
We offer customize on touch screen dimension , FPC cable location ,silk screen color , name , logo etc , cover glass thickness (1mm , 2mm ,3mm ,4mm even 5mm) , surface treatments ,glass anti-glare ..
Software compatible with 3M ,ELO ,or else development
Applications
Kiosk/ Self-service machine /Self Automation machine
Interactive/Information /Digital Signage Terminals
Gaming/Casino/Jackpot/Slot /Lottery machine
ATM/VTM/Metro Ticket Vending /Retail Machine
Medical equipment /Cinema getting Ticket /PIO machine
Industrial automation/Industrial panel PC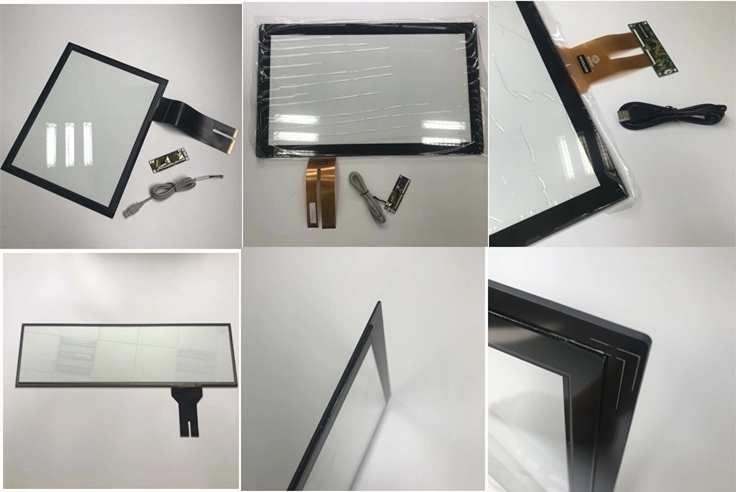 Technical specification
Type
Projected touch panel
Interface
USB
Number of touch point
10points
input voltage
5V ----
Pressure endurance value
<10g
Input
Hand writing or capacitive pen
Transmittance
>90%
Surface Hardness
≥6H
Usage
The specification is applied to transparent and handwriting input
capacitive touch panels
Application
It's applied in ordinary electric equipments and automatic office facilities
Cover Lens Specification
Pressure Value
400 ~500 mPA above 6u
Ball Drop Test
130g±2g, 35cm, No damage after the impact at the central area for once.
Hardness
≥6H Pencil: 6H Pressure: 1N/45.
Environment
Working temperature and humidity
-10~+60ºC, 20~85% RH
Storage temperature and humidity
-10~+65ºC, 20~85% RH
Humidity resistance
85% RH, 120H
Heat resistance
65ºC, 120H
Cold resistance
-10ºC, 120H
Thermal shock
-10ºC(0.5hour)-60ºC(0.5hour) by 50 cycles
Anti - glare Test
Incandescent lamp (220V,100W) ,
operating distance over 350mm
Altitude
3,000m
Working Environment
Directly Under sunlight ,indoor and outdoor
Software(Firmware)
Scanning
Auto full screen scanning
Operate system
Win 7,Win 8,Win10, Andriod,Linux
Calibration tool
If need Precalibrated & Software contact us